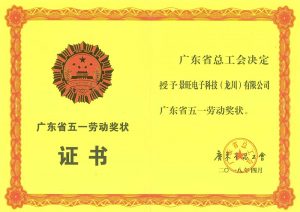 On the morning of April 28, Guangdong Province Conference for Celebrating "May 1" International Labor Day and Commending Model Workers was grandly held in Guangzhou. Longchuan Kinwong was awarded the honorary title of "May 1st Labor Certificate of Guangdong Province". This award is another honor that Longchuan Kinwong received from Guangdong Province Federation of Trade Unions since it won the "May 1st Labor Medal of Guangdong Province" last year.
"Staying true to our original aspiration and moving forward against all odds for decades". In 2017, Longchuan Kinwong closely centered on standardized operation and management, continuously upgraded R&D technology, took quality as the center, took standards as the basis,  gathered strength to overcome difficulties, successfully achieved business objectives, and realized an annual output value of more than RMB 2 billion, hitting a new all-time high. The Company always adhered to the scientific outlook on development, trained innovative R & D team, and actively implemented independent research and development work. The management work of each position was planned, arranged, implemented, inspected, assessed and fed back, so that all work was gradually standardized, institutionalized and refined. The Company took the opportunity of being an innovation-based pilot enterprise in Guangdong Province, accomplished the work of building an innovation-based enterprise, continued to increase investment in independent innovation, comprehensively enhanced its own overall competitiveness, and successively obtained a number of scientific research platforms and honors, including "National High-tech Enterprise", "Guangdong Province Intellectual Property Dominant Enterprise", "Guangdong Province Enterprise Technology Center", "Guangdong Province Engineering Technology Research and Development Center", and "Second Prize of Guangdong Province Science and Technology Progress Award". Up to now, 10 products of the Company have been determined as high and new technology products in Guangdong Province.
This time Longchuan Kinwong won the "May 1st Labor Certificate of Guangdong Province". However, it will make persistent efforts, remain true to its original aspiration and keep its mission firmly in mind, be dedicated to work, work hard, keep enterprising and improving, make unremitting efforts to achieve the strategic goal of the Group's "521 Project", actively carry out the new development philosophy, work in a diligent, honest and creative manner, have the courage to shoulder social responsibilities, and contribute to the steady and healthy development of the economy and society of Guangdong Province.